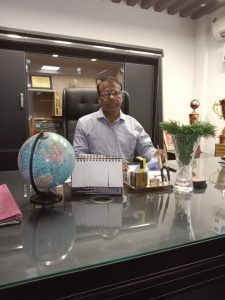 VINOD KUMAR
"Director, FGIET"  Raebareli
At FGIET our main focus is on nurturing  and facilitation the quality of  technical education by adopting an innovative, Methodological ,balanced and rational approach so as the expectations of our students can be transformed into a reality. Our efforts have been manifested in form of success of our students in higher studies at Institute of National Importance. Concurrently, FGIET also prepare students for Industry employment to meet an ever increasing demand of technically proficient man power. For the very purpose Institute offers a dedicated staff and comprehensive learning programme to transform a student into industry employable youth. In this session we have more than 24 companies offering jobs to our students and many more are still are in process. By this time we have about 120 students either received the offer letter or in process of receiving the same and about half of this are in process of placements. Companies visited are like VIVO, IDEA, LAVA.
We have been recognized for our excellent support for student presentations in National and International Conferences and Exhibition at 3rd National Uttar Pradesh Education Summit and Excellence Awards 2015, followed up by DNA & Stars of Industry Group at 8th Innovative Education Awards, Mumbai for being Outstanding Engineering Institute – North. Praxis Media recognized us at National Education Excellence Awards 2016 as Best Emerging College in Northern India.
FGIET has a mission to play a vibrant role in the national endeavour of developing India and in this pursuit we have been given an opportunity from Government of India as a partnering Institute under "Unnat Bharat Abhiyan".
I invite the budding aspirants to come and join the FGIET family and participate in personal and national development process.